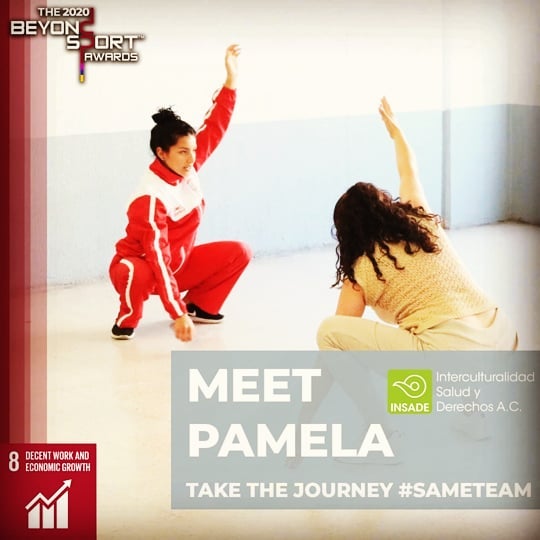 (1/2) "Sport helped me build the woman I am today." – Pamela
2020 Beyond Sport Global Award Shortlister for #DecentWork & #EconomicGrowth, @insade works with incarcerated people in Mexico to help them reintegrate back into society, socially and economically.  Read about Pamela and then Take the Journey with all our Shortlisters through Dec (link in bio).
23-year old Pamela currently lives at home with her parents and two of her sisters. Extremely intelligent, she loves sports and  concluded her degree in Sports Coaching at the High School of Physical Education. She now works in a sports club and also supports the Taekwondo activities of the  Hecho en Libertad™- "Made in Freedom" – program of Interculturalidad, Salud y Derechos A. C. (INSADE).
However, when she was 17, Pamela got into legal trouble in Mexico City. While a lawsuit progressed and facts were clarified, she was put on probation under the Dirección General de Adolescentes, which handles crimes committed by minors. She lived and worked there for 12 months.
During her probation she learned of INSADE and began taking part in its 4-phase social reintegration and economic self-sufficiency program – beginning with sport.
Pamela chose taekwondo to train in, as she had liked the sport since she was a child. During the process, she made important advances to strengthen her self-esteem, manage her emotions and build her goals.
"Sport keeps your mind focused, makes you brave, patient and competitive with yourself. It makes you a better person because every day is an opportunity reflected in the actions that affect directly yourself, your family and your community."
Read more in Part 2…
#SameTeam #SDG8 #globalgoals #unday #taekwondo #mexico #beyondsport #sdgs #wellbeing #economy #employment #sportforsocialchange #journey #insade #MadeinFreedom #socialreintegration